The Chevy Camaro has always been a legendary vehicle. That doesn't change for 2019 when Chevrolet rolls out its first new redesign of the Camaro in a very long time. The new 2019 Chevy Camaro is going to blow away the competition with all of the big changes its bringing. Don't worry, though. Chevy still manages to retain the same aura of glitz, glamour, and speed of past editions. When a car is considered as perfect as the Camaro, it's easy to worry that changing the formula might not be a good thing. Fear not! The new changes that Chevy is unrolling in 2019 will do nothing but make you smile. Here's why.
So what have you got to look forward to in 2019? Here are the sweeping changes Chevy is bringing to the table.
5 Big Changes to the 2019 Chevy Camaro
New Turbo Trim
We all love turbo, and Chevy is using a 4-cylinder turbo engine on a very special trim called Turbo 1LE. It's not a lightweight in the horsepower department, however, churning out a massive 275 horsepower and 295 pound-feet of torque. It's the first time in history that Camaro rolled out a trim just to emphasize a turbo engine like this, and it's big news.
New Tech
For the first time in Camaro history, you're going to get technology features like a rear view camera and forward collision alert. Now you have extra safety features on your side while you're out being adventurous.
Big Exterior Updates
Chevy doesn't completely rework the formula - it wouldn't be a Camaro if they did - but they certainly refined it, with a new front and rear end and new headlights with LED accents. It's about time that Chevy brought the Camaro into the more modern era, but it took particular care to make sure that they didn't completely abandon the pureness of the classic Camaro look.
Connectivity Tech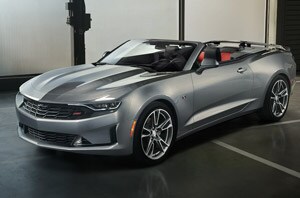 The 2019 Camaro has a standard 7-inch touchscreen with the option to upgrade to an 8 inch touchscreen infotainment system. Camaro provides a lot of functionality with your smartphone and the power to integrate this into your sports car.
Spiffier Taillights
Many folks weren't pleased with some of the taillight changes Chevy made to the previous Camaro, so we're getting back to basics here, with revamped taillights that are more true to form. You can look forward to a more three-dimensional, futuristic look that bring the Camaro back on track. We're pleased to see that Chevy listened to some of the criticisms and revamped this part of the 2019 Camaro.
Learn More Today
If you're interested in the 2019 Chevy Camaro, you're definitely among the millions who love this vehicle. You're welcome to visit our showroom, call or contact us on our website today.