Phoenix Chevrolet Dealer Researches the New Colorado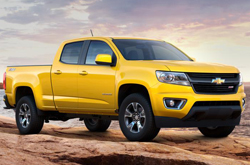 Narrower, shorter and lighter than its big brother, Silverado, the arrival of the new 2015 Chevy Colorado in Phoenix offers truck shoppers a Chevy truck alternative to a full-sized pickup. That's welcome news to many an urban Chevy enthusiast who likes the unique utility of a pickup but hasn't the cargo and hauling needs to justify the expense of a half-ton truck. Join us as we discuss a few key features we think will interest Phoenix truck shoppers in our 2015 Chevrolet Colorado review.
There's a lot to recommend the Colorado to Phoenix light truck shoppers. One: the base model includes a two-tier box storage system and 13 tie-down locations to aid in securely packing and organizing your cargo or tools, while standard corner bumper step-ups make it easier to access the truck bed. Two: choose between a money-crunching standard 193-horsepower engine or an optional 302-horsepower V6 that'll easily handle highway-speed ascension to higher elevations. The Colorado's V6 engine will also deliver a class-leading 6,700 pounds tow-rating. Three: whether in extended or crew cab, short or long bed, the Colorado will still navigate easily through Phoenix downtown or Sky Harbor parking garages. Four: the Colorado has all the latest connectivity and convenience features available through OnStar and Chevy MyLink. And finally, but by no means the end of Colorado's total list of virtues, is the available four-wheel drive and off-road suspension options that open up a wide array of utility to anyone purchasing a 2015 Chevy Colorado in Phoenix.
As you continue down the page, be sure to check out the Dare to Compare section, where you'll have the opportunity to see instantly generated, independent truck comparison reports detailing how Colorado rates against competing trucks. You'll also see a hefty list of interior and exterior Colorado features in the video tour section at the end of our 2015 Chevrolet Colorado review.�