About Camaro Reviews for 2016 from Midway Chevrolet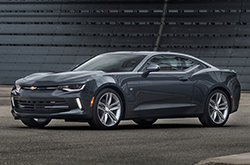 Chevrolet held nothing back when introducing the all-new 2016 Camaro. Not only is the new Camaro a lighter, more innovative version than the previous model, it is also stronger. With more power and more agility, the 2016 Chevrolet Camaro in Phoenix is the perfect purchase for Valley car buyers who are looking for the classic Camaro charm with even more athleticism and style.
When it comes to performance, the Camaro knows best; a reason 2016 Chevrolet Camaro reviews praise the sports car's six powertrain options as spectacular. The standard 2.0L Turbo engine in the Camaro LT offers 275 horsepower and 295 lb.-ft. of torque. There is no doubt buyers will appreciate the performance as they drive the most fuel-efficient Camaro ever. Additional options include the 3.6L V-6 engine available in the Camaro LT, which reaches 335 horsepower and 284 lb.-ft. of torque. Both LT models are offered with either a six-speed transmission or the all-new Hydra-Matic eight-speed automatic transmission with paddle shifters for an extra sporty experience.
For even more power, the Camaro SS, a favorite model among 2016 Chevy Camaro reviews, is the most powerful in the car's history. The 6.2L LT1 8-cylinder engine can produce an estimated 440 horsepower and 450 lb.-ft. of torque. Whether you would prefer a classic six-speed manual transmission or an all-new eight speed automatic gear system with paddle shifters, there is no doubt that the Camaro SS has the power you'll love.
Beyond the impressive performance standards, the all-new 2016 Chevrolet Camaro in Phoenix also comes with the sleek design and innovative technology you seek in a modern vehicle. With a little rearranging and a lot of upgrading, Chevy has created a more spacious, updated environment within the Camaro that includes a polished eight-inch display screen, an electronic parking brake and an available LED lighting system.
Now with more strength and style than ever, the new generation Camaro truly lives up to the iconic legacy that 2016 Chevrolet Camaro reviews spotlight. To determine your own appraisal of its performance and finesse, test drive a 2016 Chevrolet Camaro in Phoenix today!