Chevrolet Dealership in Phoenix Reviews the 2016 Silverado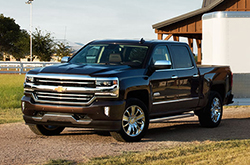 The 2016 Chevy Silverado has received a slight redesign for the new model year. Its exterior has undergone the most changes and now gives off a muscular appearance. Chiseled and rugged from head to toe, the new Silverado model is stronger and more appealing than its predecessor. Complete with bold styling, in-car technology updates and powertrain enhancements, the Silverado has everything it needs to be at the forefront of its class for the 2016 model year. For further details about the full-size pickup and its fresh additions, take a look at our 2016 Chevy Silverado review below.
With competition in the full-size truck segment at an all-time high, Chevy decided to give the 2016 Silverado in Phoenix a radical facelift for its most recent model year. Gone are the truck's dual-stacked headlights that have been a signature on Silverado models for decades. They have now been replaced by new dramatic lighting that complements the pickup's aggressive styling, which includes a freshly sculpted hood, redesigned front fascia and bold horizontal elements. High-end models will come with two rows of LED lights, along with an accent bar that separates each row, creating an attractive look Silverado enthusiasts will love.
Aside from its series of exterior modifications, the 2016 Chevy Silverado in Phoenix comes with an updated version of Chevy MyLink that is compatible with both Android Auto and Apple CarPlay. Designed to give drivers direct access to features on their smartphone through the car's easy-to-use infotainment system, Android Auto and Apple CarPlay allow drivers to stay connected while traveling and help reduce distracted driving. In addition to this change for 2016, the Silverado will also feature several new safety amenities and expand the use of an eight-speed automatic transmissions across the lineup.
Known for developing dependable, resilient trucks, Chevy does not disappoint with the redesigned Silverado. To acquire more information about this first-class model, continue reading our 2016 Chevy Silverado review.