Phoenix is home to busy roadways and lots of traffic, meaning your vehicle's braking system gets a lot of attention day after day. However, brake service is an often overlooked part of Chevy maintenance. There are several components that make up your car, truck or SUV's braking system, which is why routine brake checks are vital to maintaining brake health.
Why Do I Need to Service My Car's Brakes?
Brake wear is inevitable, but something that should never, ever be ignored. When one part of a vehicle's brakes is not up to par, it will start to affect the way the entire system functions. Routine brake inspections performed by a Chevrolet-certified service technician will detect any problems before they cause further destruction.
We recommend you bring your vehicle in for brake inspections every 10,000-15,000 miles, given that you aren't experiencing any issues that need immediate attention. During an inspection, each part of the braking system will be evaluated and replaced or repaired as necessary. This will help keep you ahead of any problems and maintain your safety on the road!
How Can I Tell If My Brakes Need Repair?
When your brakes aren't performing properly, they'll present some hard-to-miss symptoms. If you are experiencing any of the following signs, be sure to schedule an appointment with our Chevy service center right away: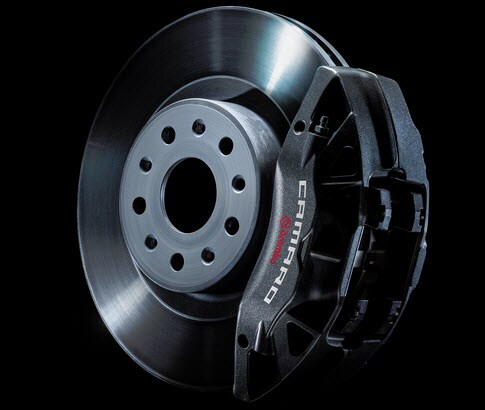 Screeching, grinding or another loud sound when coming to a stop
The brake pedal feels loose or spongy
The brake pedal is sinking into the floor
When braking, your car jerks to the side
Your brake warning light will not turn off
These problems can be indicative of a simple fix, like worn brake pads or low brake fluid, or a much larger issue. In any case, abnormal brake performance is something that should receive immediate attention before it results in costly damage or a collision.
Why Should I Go to Midway Chevrolet for Brake Maintenance?
As you look around the Valley for an auto repair shop, you're likely to notice there are a lot of places to choose from. However, very few offer the level of expertise and customer service that we do. At Midway Chevrolet, our full-fledged service center is equipped with all of the tools and OEM Chevrolet parts to provide you with a quality repair! Our Chevrolet-certified service technicians are highly experienced in performing brake pad replacements, rotor and drum resurfacing, brake line fixes and more. We also offer brake repair coupons to help you get an affordable price.
For more information on the brake services performed by our Chevy dealership, contact us now!