Quality Chevrolet Spark Research From Midway Chevrolet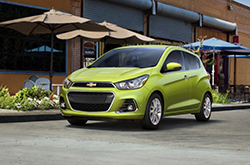 Chevrolet's classic minicar is back with more sophistication, power, efficiency and safety than ever before. The all-new 2016 Chevrolet Spark in Phoenix offers drivers in the Valley a perfect option when it comes to a safe, reliable and innovative minicar experience. Whether you are looking for a fuel-efficient easy-to-drive vehicle or you are in search of a practical vehicle that has the most up-to-date technology, you are sure to find a fun, agile car in the 2016 Chevy Spark.
The redesigned Spark includes a 1.4L engine with a manual or continuously variable transmission system; a winning powertrain combination that boasts more horsepower than the previous model. In addition to the stronger performance, Chevy's beloved global car has been refined with a lower roof, wider base and a more mature trim. Yet, drivers don't lose any room with the update, as designers rearranged the interior for an even more spacious environment, a favorite feature of many 2016 Chevrolet Spark reviews.
Beyond the efficiency and sophistication that buyers will love, the newest generation of Chevy's minicar features extensive safety and connective features. Thanks to a suite of standard and optional safety amenities, Spark buyers will feel at ease when driving their minicar around town. Standard features include ten air bags, a rearview camera and a stronger body structure, while optional features include forward collision alert, lane departure warning, blind spot alert, rear park assist and a rollover sensing system. In addition, the new 2016 Chevrolet Spark in Phoenix also includes a 7-inch tough screen display that acts almost as a smartphone as users can swipe, pinch or tap for easy operation. Plus, you can even enhance your Spark's usability when you opt to use it as a 4G LTE built-in Wi-Fi hotspot.
The Spark offers the perfect balance of efficiency, connectivity and safety, which is why 2016 Chevrolet Spark reviews aren't lying when they say the new generation Spark sets the stage as a truly global car. Test drive a Spark today to learn more about its incredible design and its terrific capability.