Are You Wondering, Where Can I Find A Chevrolet Tranmission Repair Center Near Me?
As a driver, we all need to be aware of any possible problems with our vehicle. Chevrolet vehicles are built to last. That doesn't mean individual parts will not be susceptible to wear and tear. A transmission needs to be maintained regularly or it could be prone to issues. Mechanical issues sometimes happen regardless. Your best bet for longevity is routine maintenance at Midway Chevrolet.
You may first notice transmission issues when your vehicle doesn't transition from one gear to the other in a smooth fashion. This slippage is a symptom of a problematic transmission. There are other issues that could occur. It's important to have your vehicle inspected by a trained professional several times a year. Our service department is highly adept at making sure your transmission has the proper levels of fluid and is thoroughly maintained. Proper service from expert technicians could save you tons of money in the long run.
When Should I Change My Transmission Fluid?
It is important to note that every vehicle is different. One Chevrolet is not the same as the other. You should consult your vehicle manual to find the specific recommended intervals. The factory recommended tips are different for every make and model.
You can also check with our service department to create a general maintenance game plan. Our technicians have been working with factory based Chevrolet parts for years. Our extensive experience allows our team to quickly diagnose any current issues. We can prevent further damage to components such as your transmission. We can help make suggestions on when to change fluids. You can also lean on our service department for regular maintenance which includes fluid checks. This means oil, windshield wiper, brake and transmission fluids. We are always thorough because your vehicle depends on it.
What Are Symptoms Of Transmission Issues?

As a driver, it is important to be on the lookout for any potential problems with your Chevrolet. Transmissions generally create noticeable signs when issues exist. You might notice the transition from one gear to another is rigid. You might not be able to properly go in reverse. You might hear an odd sound when you switch gears. This goes for automatic and manual transmissions. Manual transmission drivers might notice an issue with the clutch. You might also notice your fluid levels are just low. Low levels could potentially mean a leak. This means a trained professional might need to examine your transmission to solve any leakage issues.
Why Is It So Important To Monitor My Levels?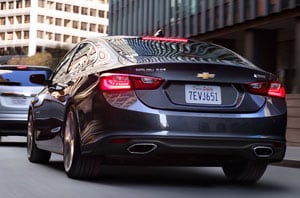 Monitoring vehicle fluids should be mandatory. The pace of today is super busy. You might not have time to routinely check fluids. Our service department can ease that burden with regular tune-ups and maintenance. You will get many more miles from a vehicle by checking fluids on a routine basis. Fluids are vital to the longevity. Fluids help each component run smoothly. Transmission fluid is crucial to the livelihood of your vehicle. Without enough, your automobile may struggle to even accelerate. You might not be able to switch gears. You could end up paying major repair costs in the long term. You can schedule an appointment with our service team today. We will help you create your own game plan to monitor fluids and provide routine maintenance. Your transmission will always be a key part of that.
Service Hours
Monday

7:00 am - 6:00 pm

Tuesday

7:00 am - 6:00 pm

Wednesday

7:00 am - 6:00 pm

Thursday

7:00 am - 6:00 pm

Friday

7:00 am - 6:00 pm

Saturday

7:00 am - 5:00 pm

Sunday

Closed