The 2012 Chevrolet Avalanche from Midway Chevrolet is the symbol of ardent automotive craftsmanship built to fit the needs of AZ Chevrolet buyers. Midway Chevrolet is elated to present the 4-door 2012 Chevrolet Avalanche SUV. As your Peoria Chevrolet dealer, we hope you find our 2012 Chevrolet Avalanche reviews and research materials invaluable in finding the amenities, specifications and information you've been waiting for. View Midway Chevrolet's new lineup of 2012 Chevrolet Avalanche SUVs.
Midway Chevrolet presents the 2012 Chevrolet Avalanche SUV
Shoppers find that when they compare the 2012 Chevrolet Avalanche to other makes like the RAM 1500, Cadillac Escalade EXT and Honda Ridgeline, the Chevrolet Avalanche shines as the most fun to drive. Check over our Quick List table below to see why!
The 2012 Chevrolet Avalanche has an starting MSRP of
The 2012 Chevrolet Avalanche gets 15 city / 21 highway MPG
The 2012 Chevrolet Avalanche goes from 0-60 MPH in 6.9 seconds
The 2012 Chevrolet Avalanche features 41.3 inches of legroom up front and 39.1 inches in back
The 2012 Chevrolet Avalanche features 41.1 inches of headroom in front and 40 inches in back
The 2012 Chevrolet Avalanche is 221.3 inches long, 79.1 inches wide and is 76.6 inches tall
The 2012 Chevrolet Avalanche weighs 5548 pounds and has a turning radius of 43 feet
We know you'll fall head over heels for the Chevrolet Avalanche - visit Midway Chevrolet in Peoria today!
One part Chevy SUV, one part Chevy truck, the 2012 Avalanche remains one of the most versatile vehicles on the road. Like the 2011 Chevy Avalanche, the current, four-door Chevy truck-SUV crossbreed impresses with its advanced 310 horsepower 5.3-liter V8. This powerful engine is matched up to a six-speed automatic transmission and provides an invigorating ride that Peoria Chevy drivers will delight in. The 2012 Chevrolet Avalanche was built for utility with plentiful cargo room and 335 pound-feet of torque. You can find the new Avalanche at Midway Chevrolet for just . With its combination of raw power, spaciousness and advanced features, the Avalanche truck outshines the RAM 1500, Cadillac Escalade EXT and Honda Ridgeline. As a premier Peoria Chevrolet dealer, we offer both new and used Chevy Avalanche trucks, including the 2011 Chevy Avalanche and other low-mileage, late-model-year trucks. Visit Midway Chevrolet today to check out the 2012 Chevrolet Avalanche along with our entire selection of inventory!
Unlike the average truck, the bed of the Avalanche opens to the back seat using a Midgate, a mechanism which encompasses a folding panel with a removable rear window. The one-of-a-kind Avalanche Midgate sets this unique vehicle apart from its segment competitors, and Peoria Chevrolet drivers who require a brawny automobile with plenty of space will appreciate the Avalanche's distinctive setup. To convert the SUV into a pickup is simple: begin by lowering the 60/40 split-folding bench seat and then lower the Midgate into a secure cargo area. You can also accomplish this by removing the rear window, thus creating more space for your gear. In fact, the rear window can actually be stowed in the Midgate. Compare the 2012 Chevrolet Avalanche from Midway Chevrolet to other trucks like the RAM 1500, Cadillac Escalade EXT and Honda Ridgeline, and you will find that the Chevrolet Avalanche is well ahead of the curve.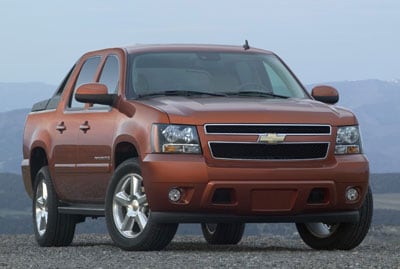 What makes the 2012 Chevy Avalanche even more unique is that it is a full-size SUV with an open bed, instead of employing the typical covered compartment. Extra storage space is provided behind each wheel well and can be easily accessed by locking the flip-top panels. Because of its unique Midgate design, the Avalanche quickly changes from a six-passenger pickup truck to a three-passenger pickup with approximately eight feet of cargo space. The Chevy Avalanche is available in three trim levels that include the base Avalanche LS, the midgrade Avalanche LT and the top-of-the-line Avalanche LTZ. You can find the new 2012 Chevy Avalanche truck at Midway Chevrolet in vivid colors like White Diamond Tricoat, Imperial Blue Metallic, Silver Ice Metallic and Victory Red. Visit our Peoria Chevy dealership to find a large selection of quality new and used trucks like the 2010 and 2011 Chevy Avalanche.
Safety is also a priority for Chevy's unique full-size crew-cab pickup SUV. It comes standard with head-curtain side-impact air bags, as well as front seat-mounted side-impact air bags. These are in addition to the standard dual-stage frontal, driver and right-front passenger air bags with a Passenger Sensing System. Also added for safety is the Tire Pressure Monitor which keeps an eye on your tires' inflation levels and alerts the driver if any of the tires are low on air.
The new Chevy Avalanche is for sale at your foremost Peoria Chevrolet dealership. The Avalanche provides a pleasant driving experience, smooth ride, and of course, heavy-duty power in an SUV-styled body. Whether you're looking for a new or used Chevy Avalanche or for more information about Avalanche Flex Fuel, E85 Fuel or the Vortec engine, Midway Chevrolet is your top resource!
Owning a Chevrolet Avalanche from Midway Chevrolet makes AZ driving convenient, safe and fun - all at the same time! This is why:
Midway Chevrolet has a huge collection of 2012 Chevrolet Avalanche SUVs with standard Chevrolet safety features like anti-lock brakes, traction control, driver airbags, passenger airbags, side airbags and more, making the 2012 Avalanche an NHTSA and IIHS favorite. In addition to these safety features, the 2012 Chevrolet Avalanche can pleasantly seat up to 5 passengers. Trunk space with Chevrolet is never a worry; the Avalanche can hold up to 45.5 cubic feet of your luggage, ensuring that your next trip is hassle-free. To top it all off, the 2012 Chevrolet Avalanche includes an incredible list of comfort and convenience accessories like powered windows, mirrors, doors and locks, climate control, AC and optional hands-free phone and navigation systems. Take a test drive at Midway Chevrolet today and experience the Chevrolet Avalanche for yourself.
The Chevrolet manufacturer's warranty covers the Avalanche for manufacturing defects and has a 3 years / 36,000 miles Chevrolet warranty. Chevrolet has worked for years to minimize its environmental impact; as a result, the Avalanche's carbon footprint is minimal. Not surprisingly, with all of the Avalanche's advantages, this amazing Chevrolet SUV retains a high percentage of its value at 3 years and 36,000 miles, which makes the Chevrolet Avalanche a great used buy! When seeking a safe, stylish and economical SUV, Phoenix Chevrolet buyers should head to Midway Chevrolet, located at 2323 W. Bell Rd. in Phoenix, AZ
Chevrolet Avalanche service information for Peoria
Chevrolet Avalanche lessees and owners in Peoria have recognized that Midway Chevrolet at 2323 W. Bell Rd. in Phoenix is the very best choice for Avalanche warranty work, regular maintenance, inspections and mechanical repairs. At Midway Chevrolet, Certified Chevrolet Technicians trained in the very latest corrective and diagnostic techniques work for one thing - your complete satisfaction. Whether it's time for your Chevrolet to have an oil change, shock and strut replacement, or simply undergo Avalanche Scheduled Maintenance, Midway Chevrolet is your first choice. Our Certified Chevrolet Techs also complete specialty jobs and repairs. Midway Chevrolet is the smartest choice in Peoria for quick, amicable and professional Chevrolet Service of all kinds.
If you'd like to make an appointment to have your Avalanche serviced, click the link or just give us a call. Visit us today!