Welcome to Midway Chevrolet's Corvette Review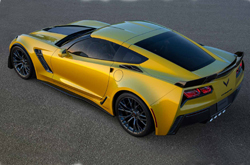 Thinking about a Corvette? There are some cool new features on all 2015 Corvette Stingrays in Phoenix, along with the addition of the new Corvette Z06 model. Peruse our 2015 Chevy Corvette review to see what's new and hot, and what's included and what's not!
Chevy has added a newly developed eight-speed, paddle-shift automatic transmission option to all their 2015 Corvette Stingrays. The new transmission offers rapid shift times consistent with top-of-the-line dual clutch systems. Also included this year is the new OnStar with 4G LTE super-fast connection and built-in Wi-Fi to keep shotgun riders busy while you do the driving. The Chevy MyLink also allows you to use your smartphone hands-free applications while you drive. The new Z06 coupe and convertible, with supercharged 6.2L-liter engine delivers SAE-certified 650 horsepower and paired with a seven-speed manual transmission. The new eight-speed automatic is an available option. The Corvette Z06 is both lightweight and rigid with an aluminum space frame, carbon-fiber hood and removable carbon-fiber roof panel. Built for super-car speed, the Z06 employs the most aerodynamic downforce-creating design ever produced by GM.
For the seriously competitive driver, an available inboard performance data recorder measures Corvette speed, rpm and g-forces in conjunction with a video recording of the driver's view for analysis via the car's monitor or for downloading to a computer. This feature offers a dual use as well. Have you ever handed over a cherry car for valet parking only to cringe to the sound of squealing tires as the restaurant door is closing? Well, the 2015 Chevrolet Corvette in Phoenix now comes with a Valet Mode pass-code which not only records any driving misdeeds on the part of the attendant, but also locks down interior storage compartments and makes infotainment features inaccessible. As long as we're discussing modes, the driver-mode selections - standard on the Z06 and Z51 - electronically calibrate a dozen variables to optimize your Corvette's performance according to the driving environment.
Take advantage of our sample inventory showing 2015 Chevrolet Corvettes for sale in Phoenix to explore different trim levels and their associated features. As our 2015 Chevy Corvette review continues below, you'll also find a handy car comparison feature to compare Corvette to some of its leading competitors, along with a Corvette features overview video.