Welcome to Midway Chevrolet's Express Review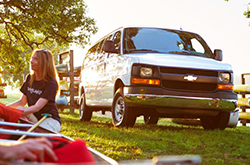 Midway Chevrolet is pleased to offer the all-new 2015 Chevrolet City Express in Phoenix as an alternative to full-sized commercial vans. Designed with big cities and small businesses in mind, we think you'll find the City Express offers benefits to Phoenix entrepreneurs, large and small, with its maneuverability, flexibility and efficiency. We invite you to peruse our 2015 Chevrolet City Express review of specs and features pertinent to Phoenix business fleet vehicle buyers.
City Express' smaller size and associated 36.7-foot turning diameter offers easy access to tight downtown areas including parking garages, construction zones and business loading areas as well as better maneuverability in navigating unfamiliar urban neighborhoods. Although diminutive in comparison to the Express 1500, the City Express offers more cargo room than you might think. City's interior walls measure 4-1/2 feet across and nearly seven feet from seats to back doors, to easily handle standard flat pallets and oddly shaped items up to 9'8" long when the passenger seat is folded down. City's 1,500 payload capability will suffice to carry many small business' cargo and equipment.
Since the City's emphasis is on economy and efficiency, Chevy has announced the best van coverage in the nation for the City Express, offering a three-year/36,000-mile bumper-to-bumper warranty, combined with a five-year/100,000-mile powertrain warranty. Compete Care scheduled maintenance for two years or 24,000 miles, whichever comes first, is also a given. City's standard engine is an efficient 131-horsepower, 2-liter in-line-four with a continuously variable transmission which is adequately powered for appropriately safe driving while providing economic fuel usage.
Every 2015 Chevrolet City Express in Phoenix is equipped with six standard airbags, electronically force-distributed, four-wheel anti-lock brakes and electronic stability control. The six-way-adjustable driver's seat with manual lumbar support helps prevent driver fatigue. Staying in contact with mobile units through standard Bluetooth connectivity assists in keeping your mobile unit on schedule. For additional interactive connectivity, LT models offer an available technology package with a 5.8" touchscreen interface for navigation, USB input, a rearview camera system and upgraded Bluetooth connectivity.
Our 2015 Chevrolet City Express review continues with more specifications and a walk-around video tour of this new Chevy commercial van offering below. If you have any questions, we hope you'll contact us at Midway Chevrolet where we can help out with commercial lease information and offer you more information on customizing a City Express to perfectly fit your business needs.