Phoenix Malibu Research on the 2015 Chevrolet Model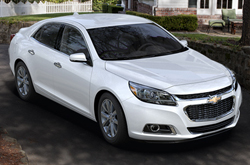 The problem with mid-sized anything is that it tends to blend in with the crowd. But Malibu's updated styling last year made many car shoppers sit up and take notice. Kelly Blue Book's 2015 Chevrolet Malibu review declared, "...the Malibu remains one of the better looking sedans in its class, inside and out." It's true that Malibu hasn't changed much since last year, but we can certainly understand why Chevy decided to stay the course. Inside, Malibu exudes an upscale impression with soft blue ambient lighting, complementing interior chrome accents. Outside, the Impala-style dual grille, chrome highlights and sweeping headlamps conjure up feelings of sporty sophistication. Join us as we take a closer look at the new 2015 Chevy Malibu in Phoenix, examining some key features and options.
From the start, you can see that Malibu is not a no-go-show-boat. On the contrary, described by Kelly Blue Book test drivers as well-suited to the long highway as well as mountain roads, we form a picture of a well performing, well handling sedan. Malibu's base engine, the 2.5-liter, 196-horsepower four-cylinder is paired with a newly revised six-speed transmission for quick, refined shifting. This powertrain is equipped with automatic stop/start technology, described by test drivers as being one of the best in the industry. When driving a 2015 Chevy Malibu in Phoenix, this smart system will monitor vehicle speed, climate control and additional operational factors before initiating engine shut off at a stop light or other appropriate stand-still. The transmission stays primed for instantaneous take-off when the driver begins to release the brake, maintaining seamless operation and a satisfying driving experience, while saving big on fuel consumption. If performance is your priority, Malibu's available 2-liter, turbocharged, four-cylinder engine delivers 259 horsepower and best-in-segment 295-pound-feet of torque, rivaling six-cylinder performance.
Another sit-up-and-take-notice new feature on the 2015 Malibu is the addition of a standard Wi-Fi hotspot included with OnStar's 4G LTE connection. A three-month trial data subscription is included and this feature turns your car into a connectivity zone for everyone on board. Along with enjoying a quiet, smooth ride, your passengers will also benefit by access to movies, games and any other online activities during long trips - or even short ones for that matter - courtesy of any Wi-Fi-capable device.
Learn more about the new Malibu's standard and optional features as our 2015 Chevy Malibu review continues with additional stats, video overview and car comparison feature.
�