2015 Chevrolet Spark Reviews from Midway Chevrolet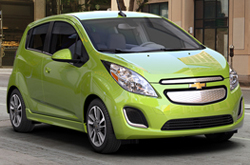 The new 2015 Chevrolet Spark is a remarkably nimble and versatile Chevrolet model that is taking the Phoenix market by storm. Need cost-effective, a fuel-efficient, capable ride? Look no further than the Chevy Spark, it truly is more than meets the eye. Behind its sleek and stylized exterior, the new Chevy Spark delivers Valley shoppers unprecedented convenience in a compact package. Read our 2015 Chevrolet Spark review below for more information on the power, safety, and interior comforts.
The 2015 Spark's 84-horsepower, 1.2-liter four-cylinder EcoTech engine is more than powerful enough to get the small frame up to speed quickly, and was recently redesigned with a standard five-speed manual gearbox for increased acceleration on streets and highways. An optional continuously-variable transmission (CVT) is also available for purchase.
In our modern era, compact is the new normal, buyers want a great ride with easy maneuverability, exceptional fuel economy and a sporty chassis. Typically cargo capacity is sacrificed in exchange for a more economical window sticker. The 2015 Chevy Spark in Phoenix shifts that narrative, featuring a tremendous gas mileage of 34 MPG (combined), fast acceleration and a trendy exterior, without sacrificing storage or passenger comfort. The Spark may look tiny from the outside, and it is the smallest car in Chevy's 2015 lineup, but it comfortably seats 4 adults, a claim not one of the competing city cars (Mini, Fiat 500) can make.
While the compact segment of vehicles tends to fare worse in crash test rankings, the 2015 Chevrolet Spark is reviewed as one of the top performers, garnering a four-star overall rating from the National Highway Traffic Safety Administration (NHTSA). With 10 airbags included in the Spark's list of standard safety equipment, along with Chevy's electronic stability controls, OnStar service and anti-lock brakes, it's no surprise why the 2015 Spark ranks so high.
Designed for the modern driver, the new Chevy Spark delivers the comfort, fuel economy, and maneuverability you need in a new car. New car shoppers would be smart to take a look at the 2015 Chevy Spark in Phoenix; you may be surprised how well it exceeds your expectations.