Quality Chevrolet Corvette Research From Midway Chevrolet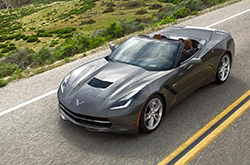 The Corvette is faster, more luxurious and more capable than ever, thanks to new technologies and an updated style for 2016. Long considered a premier choice for power and class, the Corvette earned more than 20 industry awards in 2014, as well as a spot on several "10 Best" lists in 2015. For its newest incarnation, several 2016 Chevy Corvette reviews have praised the powerful car as the best it has ever been. Available in a selection of trim levels and models, the 2016 Corvette is sure to wow all who encounter the flawless sports car.
The 2016 Chevy Corvette Stingray in Phoenix is available as a traditional coupe or as a convertible. While Valley residents can make good use of the convertible on the endless sunny days, both versions of the car include the same 6.2L V-8 engine that boasts 455 horsepower and 460 lb.-ft. of torque. In addition, buyers can select between a seven-speed manual transmission and an eight-speed automatic transmission with paddle-shifters. Beyond its impressive power and capability, the Corvette Stingray also boasts top-rated efficiency among its competitors.
For an even sportier experience, buyers can choose the 2016 Corvette Z06; a vehicle that 2016 Chevy Corvette reviews call "the most capable Corvette ever." The Z06 model features a supercharged 6.2L V-8 engine that produces an astonishing 650 horsepower and 650 lb.-ft. of torque. As with the Stingray, the Corvette Z06 comes with the option of a manual or automatic transmission, as well as a convertible preference. Perfect for the racetrack, the 2016 Corvette Z06 also includes larger tires to enhance grip, longer fenders to cover a wider tire tread and a body specifically designed to produce aerodynamic downforce for more power and speed.
Both the Corvette Stingray and Corvette Z06 are phenomenal selections for sports car drivers in the Phoenix area. All models include a stunning interior, an innovative LED display screen and a ravishing exterior that is a standard indicator of the Corvette difference.
To see the outstanding power and beauty for yourself, test drive a 2016 Chevy Corvette in Phoenix today!