Chevrolet Express Review for 2016 Model Year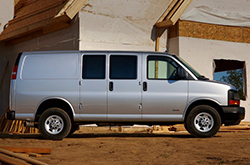 The 2016 Chevy Express Van continues to be a top choice for commercial drivers. Offering versatility, reliability and an abundance of beneficial features, the van is just right the vehicle for your business needs. For 2016, the Express Cargo Van, Express Cutaway Van and Express Passenger Van all gain new standards and options that work to improve the in-car experience for all occupants. Check out a full rundown of each new upgrade by reading our extensive 2016 Chevy Express Van review down below.
A plethora of new features increase the appeal of the 2016 Chevy Express Van in Phoenix. This year, all three models come with OnStar, a Wi-Fi hotspot, six standard airbags, an optional 220-amp generator and optional GMC IntelliLink with navigation radio. The Express Cargo Van and Cutaway Van are also now equipped with a standard digital AM/FM radio, which provides in-car tunes while on the go. The Cargo Van and Passenger Van are available with optional single-pane side-view mirrors and a dual-isolated battery system as well for those interested. Lastly, to keep equipment in place within the cabin, the Express Cargo Van has been fitted with six D-ring tie downs.
Pushing out 260 horsepower and 525 lb.-ft. of torque, a 6.6L turbo-diesel Duramax engine has no trouble getting the Express Van to its intended destination. It performs well in all weather conditions and provides best-in-class torque and horsepower. The diesel is considered the top engine option for the 2016 Chevy Express Van in Phoenix; however, there are two gas engine options buyers can also choose to go with. An available 4.8L V-8 produces 285 horsepower and 295 lb.-ft. of torque, while a 6.0L V-8 outputs 342 horsepower and 373 lb.-ft. of torque. All three engine options are equipped with a six-speed automatic transmission that supports their performance offerings.
To learn more about the Express Van and its other amenities, continue browsing our 2016 Chevy Express Van review below.