Phoenix Chevrolet Dealership Reviews the New Volt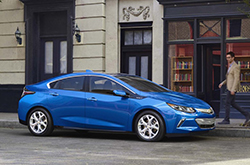 The all-new 2016 Volt includes extensive upgrades and features that make plug-in hybrid ownership easier than ever. Not only does the sedan offer what the 2016 Chevrolet Volt reviews agree is the best all-electric range of any plug-in hybrid, but it also features a redesigned interior with seating for five and new, innovative amenities for increased utility. The perfect hybrid for everyday life, the 2016 Chevrolet Volt in Phoenix offers a groundbreaking electric experience with impressive comfort.
Designed to go further on less, the Volt allows drivers to travel around 50 miles on electric power alone. When the car dips below its fully charged range, the 1.5L four-cylinder engine powers the sedan with the efficiency of 41 mpg. While the total driving range is estimated at more than 400 miles, owners who regularly charge their Volt can potentially travel more than 1,000 miles between fill-ups. Plus, the GPS location-based charging program, intuitive charge status indicators and portable cord enhancements make the maintenance of the 2016 Volt easier than ever. Perhaps the most convenient of the new programs, the GPS location-based charging allows owners to set default charging preferences for when the car is perceived to be "home" based on GPS. This new feature, along with the others, will allow owners of the 2016 Chevrolet Volt in Phoenix more flexibility when it comes to charging on their own terms.
Beyond the updated electric capability, the 2016 Chevrolet Volt also includes a stronger body structure, a quieter ride, updated five passenger seating and impressive safety features. With a standard rear-vision camera and a suite of available advanced active safety features, the 2016 Volt lives up to its reputation among 2016 Chevrolet Volt reviews as a leader for safety.
Test drive a new 2016 Volt in Phoenix today to learn more about the cutting-edge technology that is changing the way consumers think about driving. With the spacious comfort and safety of a sedan and the unrivaled efficiency of an electric car, the 2016 Volt is a leading choice for plug-in hybrids in the Valley.