The 2012 Chevrolet Colorado from Midway Chevrolet is the epitome of devoted automotive craftsmanship built to fit the needs of AZ Chevrolet aficionados. Midway Chevrolet is elated to present the 2-door 2012 Chevrolet Colorado Pickup Truck. As your Peoria Chevrolet dealer, we hope you find our 2012 Chevrolet Colorado reviews and research materials beneficial in finding the amenities, specifications and information you've been looking for. View Midway Chevrolet's new lineup of 2012 Chevrolet Colorado Pickup Trucks.
Midway Chevrolet presents the 2012 Chevrolet Colorado Pickup Truck
Shoppers find that when they compare the 2012 Chevrolet Colorado to other makes like the GMC Canyon, Ford Ranger, Toyota Tacoma and Nissan Frontier, the Chevrolet Colorado emerges as the most fun to drive. Check out our Quick List stats below to see why!
The 2012 Chevrolet Colorado has an starting MSRP of
The 2012 Chevrolet Colorado gets 18 city / 24 highway MPG
The 2012 Chevrolet Colorado goes from 0-60 MPH in 8.3 seconds
The 2012 Chevrolet Colorado features 42.2 inches of legroom up front and 23.1 inches in back
The 2012 Chevrolet Colorado features 39.6 inches of headroom in front and 37.9 inches in back
The 2012 Chevrolet Colorado is 207.1 inches long, 68.6 inches wide and is 67.6 inches tall
The 2012 Chevrolet Colorado weighs 3878 pounds and has a turning radius of 44.3 feet
We know you'll like the Chevrolet Colorado - visit Midway Chevrolet in Peoria today!
Sharp and capable as ever, the 2012 Chevrolet Colorado enters its ninth year of production with many successes under its belt. Since its arrival in 2004, the Chevrolet Colorado has been a leader in its category, offering a slew of engine and body style options. Available in many configurations, this versatile workhorse allows Peoria truck buyers to create a vehicle that perfectly suites their needs. Following the 2011 Chevrolet Colorado, the new 2012 model returns with the same muscular build, hauling power and impressive fuel economy. Compare the new Chevrolet Colorado to its competitors, the GMC Canyon, Ford Ranger, Toyota Tacoma and Nissan Frontier, and you will see why the Colorado stands head and shoulders above the competition. The 2012 Colorado is an affordable tough-as-nails towing machine equipped with top-of-the-line Chevrolet truck parts. Midway Chevrolet offers the new Colorado at a low MSRP of . Stop by our Peoria Chevrolet dealership to test drive the new Colorado today!
During its lifetime, the Chevy Colorado has gone through some significant changes. Most notably, it has received several upgrades under the hood. In 2007, The Colorado offered new engines, which included the 2.9 L (177 cu in) LLV I4 and 3.7 L (226 cu in) LLR I5. It also received a minor facelift and new high-performance wheels and tires. Then in 2009, the Colorado received another makeover, offering a 5.3 L (323 cu in) LH8 V8, which produced 300 hp (224 kW) and 320 lb-ft (434 N-m). Later in 2010, more changes were executed as GM emblems were removed and the Chevrolet badge took center stage.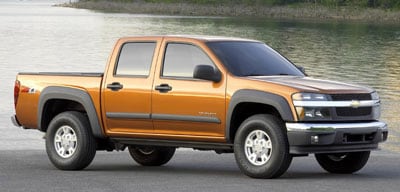 The 2012 Chevrolet Colorado is available in several trims (Work Truck, 1LT, 2LT and 3LT) and three body styles, including a regular cab, extended cab and crew cab. Colorado crew cab trucks come with five-foot cargo boxes, while the regular and extended cabs come with a six-foot box. Midway Chevrolet offers the new Chevrolet Colorado in slick colors like Victory Red, Summit White, Deep Navy and Sheer Silver Metallic. Peoria Chevy truck devotees can also find a wide selection of used Chevrolet Colorado trucks at Midway Chevrolet, including the 2011 Chevy Colorado and other low-mileage, late-model-year work trucks.
The 2012 Chevy Colorado is the perfect match for Peoria truck shoppers who are looking for a midsize truck with big-truck capability. Midway Chevrolet offers the Colorado with three powerful engine setups. The base engine is a 2.9-liter four-cylinder with 185 hp and 190 lb-ft of torque. A 3.7-liter five-cylinder engine that generates 242 hp and 242 lb-ft of torque is optional on all trims and standard on the 4WD crew cabs. Next up is a robust 5.3-liter V8 SFI engine that pumps out 300 hp and 320 lb-ft of torque. The V8 is standard on the LT3 trim and optional on LT2 models. This year, the 2012 Colorado receives another significant under-the-hood upgrade: a locking rear differential is now available on 2WD and 1WT 4WD models. In addition to having many engine options, the 2012 Chevrolet Colorado also comes with numerous interior amenities. Just a few features include OnStar, Bluetooth, full power accessories, a CD/MP3 player, air conditioning, cruise control and satellite radio. Visit Midway Chevrolet to learn about all of the features that come standard with each trim.
The new Chevrolet Colorado is on sale at your leading Peoria Chevrolet dealership. The Colorado provides a smooth driving experience, impressive towing and hauling power and a number of powertrain setups. Whether you're looking for a used Chevrolet truck like the pristine 2011 Chevrolet Colorado, or a brand new 2012 Chevy truck, Midway Chevrolet is your top resource.
Cruising in a Chevrolet Colorado from Midway Chevrolet makes AZ driving commodious, safe and enjoyable - all at the same time! Here are the reasons why:
Midway Chevrolet has a enormous assortment of 2012 Chevrolet Colorado Pickup Trucks with standard Chevrolet safety features like anti-lock brakes, traction control, driver airbags, passenger airbags, side airbags and more, making the 2012 Colorado an NHTSA and IIHS favorite. In addition to these safety features, the 2012 Chevrolet Colorado can comfortably seat up to 5 passengers. Trunk space with Chevrolet is never a worry; the Colorado can hold up to 44 cubic feet of your luggage, ensuring that your next excursion is hassle-free. To top it all off, the 2012 Chevrolet Colorado includes an extraordinary list of comfort and convenience highlights like powered windows, mirrors, doors and locks, climate control, AC and optional hands-free phone and navigation systems. Take a test drive at Midway Chevrolet today and experience the Chevrolet Colorado for yourself.
The Chevrolet manufacturer's warranty covers the Colorado for manufacturing defects and has a 3 years / 36,000 miles Chevrolet warranty. Chevrolet has worked for years to minimize its environmental impact; as a result, the Colorado's carbon footprint is minimal. Not surprisingly, with all of the Colorado's advantages, this sensational Chevrolet Pickup Truck retains a high percentage of its value at 3 years and 36,000 miles, which makes the Chevrolet Colorado a great used buy! When seeking a safe, stylish and economical Pickup Truck, Phoenix Chevrolet aficionados should head to Midway Chevrolet, located at 2323 W. Bell Rd. in Phoenix, AZ
Chevrolet Colorado service information for Peoria
Chevrolet Colorado lessees and owners in Peoria have discovered that Midway Chevrolet at 2323 W. Bell Rd. in Phoenix is the very best choice for Colorado warranty work, regular maintenance, inspections and mechanical repairs. At Midway Chevrolet, Certified Chevrolet Technicians trained in the very latest corrective and diagnostic techniques work for one thing - your complete satisfaction. Whether it's time for your Chevrolet to have an oil change, shock and strut replacement, or simply undergo Colorado Scheduled Maintenance, Midway Chevrolet is your first choice. Our Certified Chevrolet Mechanics also complete specialty jobs and repairs. Midway Chevrolet is the smartest choice in Peoria for speedy, respectable and professional Chevrolet Service of all kinds.
If you'd like to make an appointment to have your Colorado serviced, click the link or just give us a call. We'll see you soon!