The 2012 Chevrolet Corvette from Midway Chevrolet is the archetype of devoted automotive craftsmanship built to fit the needs of AZ Chevrolet drivers. Midway Chevrolet is delighted to present the 2-door 2012 Chevrolet Corvette Coupe . As your Peoria Chevrolet dealer, we hope you find our 2012 Chevrolet Corvette reviews and research materials beneficial in finding the amenities, specifications and information you've been waiting for. View Midway Chevrolet's new lineup of 2012 Chevrolet Corvette Coupe s.
Midway Chevrolet presents the 2012 Chevrolet Corvette Coupe
Consumers find that when they compare the 2012 Chevrolet Corvette to other makes like the Dodge Challenger SRT8, BMW M3 and Ford Shelby GT500, the Chevrolet Corvette stands out as the most fun to drive. Take a look at our Quick List stats below to see why!
The 2012 Chevrolet Corvette has an starting MSRP of
The 2012 Chevrolet Corvette gets 16 city / 26 highway MPG
The 2012 Chevrolet Corvette goes from 0-60 MPH in 3.6 seconds
The 2012 Chevrolet Corvette features 43.1 inches of legroom up front and N/A inches in back
The 2012 Chevrolet Corvette features 37.7 inches of headroom in front and N/A inches in back
The 2012 Chevrolet Corvette is 175.6 inches long, 75.9 inches wide and is 48.7 inches tall
The 2012 Chevrolet Corvette weighs 3311 pounds and has a turning radius of 39 feet
We know you'll admire the Chevrolet Corvette - visit Midway Chevrolet in Peoria today!
The 2012 Chevrolet Corvette is the modern embodiment of true American muscle. Chevy's award-winning roadster exudes a fierce attitude and rugged charm that make the Dodge Challenger SRT8, BMW M3 and Ford Shelby GT500 look meek in comparison. Noisy, vivacious and sylphlike, the 2012 Corvette will give Peoria car shoppers sensory and adrenaline overload. There is no denying the presence or power of this car. The 2012 Corvette also has a competitive MSRP of just . Visit Midway Chevrolet today to take it for a test drive. Once your hands are on the driving wheel, it'll be hard to let go.
For six generations, the Chevrolet Corvette has terrorized drag strips and burned black stripes on streets all across America. The Corvette was first introduced at the GM Motorama in 1953 as a concept convertible car and was appropriately named after a small, maneuverable warship called corvette. The svelte sports car is infamous worldwide and even has its own museum in Kentucky. Since 1994, the National Corvette Museum has documented the history of Chevy's most popular sports car. The 2012 Chevrolet Corvette has a new series of upgrades which Peoria Chevrolet devotees will love. For the 2012 model year, the Corvette will offer a Chevrolet Centennial Special Edition, a new seat design with larger side bolsters, an available Bose sound system and more! Visit Midway Chevrolet today to see this iconic American car!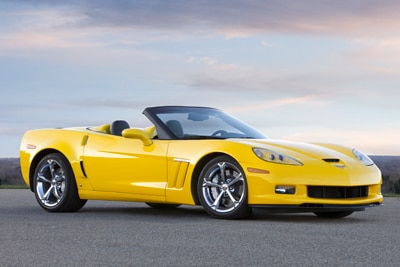 You can find the 2012 Corvette at Midway Chevrolet in cool colors like Supersonic Blue Metallic, Crystal Red Tintcoat, Carbon Flash Metallic and Blade Silver Metallic. The Chevy Corvette also comes in several trim levels. Hatchback coupe and convertible body styles are available in Base and GS trims, while high-performance Z06 and ZR1 models are available to Peoria drivers with a craving for speed. The Base and Grand Sport trims are broken into several sub-trims which include features like keyless ignition, dual-zone automatic climate control, OnStar, satellite radio and more. Contact Midway Chevrolet to learn about all of the features that come with each specific trim!
In 2005, the sixth generation Corvette Z06 left the sports car world in shock and awe. The Z06's power-to-weight ratio remained unmatched. Shift forward to 2012 and all Z06 Corvettes from Midway Chevrolet come standard with new exhaust tuning as well as Goodyear Eagle F1 Supercar tires. Magnetic Selective Ride Control (MSRC) is also an option on the Z06.
The coveted ZR1 is General Motor's fastest car ever with track speeds topping 205 miles per hour. The ZR1 was the overall winner of the 2010 Car and Driver Lightning Lap competition when it competed against the fastest cars in the world. With its weight saving components, carbon ceramic brakes, Performance Traction Management and Launch control, it's easy to see why the ZR1 is still one of the fastest cars in the world.
In a 2012 Chevrolet Corvette review, Edmunds states that it "is the American sports car. It has power and lots of it." This is no overstatement. The monstrous purr of the engines say it all. The Base and Grand Sport (GS) trims get a 6.2-liter V8 that pumps out a ground-trembling 430 horsepower and 424 pound-feet of torque. The high-performance models get an added shot of adrenaline with two gruesomely muscular powertrains. The 2012 Corvette Z06 is powered by a 505 horsepower 7.0-liter V8 with 470 pound-feet of torque, while the Corvette ZR1 comes with a 638 horsepower, 604 pound-feet of torque supercharged version of the 6.2-liter V8. Peoria Chevrolet Corvette enthusiasts can look forward to an exhilarating ride. Visit Midway Chevrolet today for a test drive!
The Chevy Corvette is for sale at your premier Phoenix Chevrolet dealership. Whether you are looking for a used or new Corvette, Midway Chevrolet is a top resource! Come in today to test drive the new 2012 Chevy Corvette or check out our large selection of used sports cars, including the 2010 Corvette and 2011 Chevy Corvette.
Owning a Chevrolet Corvette from Midway Chevrolet makes AZ driving convenient, safe and fun - all at the same time! Here are some more details:
Midway Chevrolet has a large stock of 2012 Chevrolet Corvette Coupe s with standard Chevrolet safety features like anti-lock brakes, traction control, driver airbags, passenger airbags, side airbags and more, making the 2012 Corvette an NHTSA and IIHS favorite. In addition to these safety features, the 2012 Chevrolet Corvette can capably seat up to 2 passengers. Trunk space with Chevrolet is never a worry; the Corvette can hold up to 22.4 cubic feet of your equipment, ensuring that your next outing is hassle-free. To top it all off, the 2012 Chevrolet Corvette includes an exceptional list of comfort and convenience amenities like powered windows, mirrors, doors and locks, climate control, AC and optional hands-free phone and navigation systems. Take a test drive at Midway Chevrolet today and experience the Chevrolet Corvette for yourself.
The Chevrolet manufacturer's warranty covers the Corvette for manufacturing defects and has a 3 years / 36,000 miles Chevrolet warranty. Chevrolet has worked for years to minimize its environmental impact; as a result, the Corvette's carbon footprint is minimal. Not surprisingly, with all of the Corvette's advantages, this reliable Chevrolet Coupe retains a high percentage of its value at 3 years and 36,000 miles, which makes the Chevrolet Corvette a great used buy! When seeking a safe, stylish and economical Coupe , Phoenix Chevrolet drivers should head to Midway Chevrolet, located at 2323 W. Bell Rd. in Phoenix, AZ
Chevrolet Corvette service information for Peoria
Chevrolet Corvette lessees and owners in Peoria have found that Midway Chevrolet at 2323 W. Bell Rd. in Phoenix is the very best choice for Corvette warranty work, regular maintenance, inspections and mechanical repairs. At Midway Chevrolet, Certified Chevrolet Technicians trained in the very latest corrective and diagnostic techniques work for one thing - your approval. Whether it's time for your Chevrolet to have an oil change, air conditioning repair, or simply undergo Corvette Scheduled Maintenance, Midway Chevrolet is your first choice. Our Certified Chevrolet Technicians also complete specialty jobs and repairs. Midway Chevrolet is the smartest choice in Peoria for fast, respectable and professional Chevrolet Service of all kinds.
If you'd like to make an appointment to have your Corvette serviced, click the link or just give us a call. Stop by soon!