The 2012 Chevrolet Sonic from Midway Chevrolet is the archetype of impassioned automotive craftsmanship built to fit the needs of AZ Chevrolet aficionados. Midway Chevrolet is fired up to present the 3-door 2012 Chevrolet Sonic Compact Sedan. As your Peoria Chevrolet dealer, we hope you find our 2012 Chevrolet Sonic reviews and research materials useful in finding the details, specifications and information you've been hunting for. View Midway Chevrolet's new lineup of 2012 Chevrolet Sonic Compact Sedans.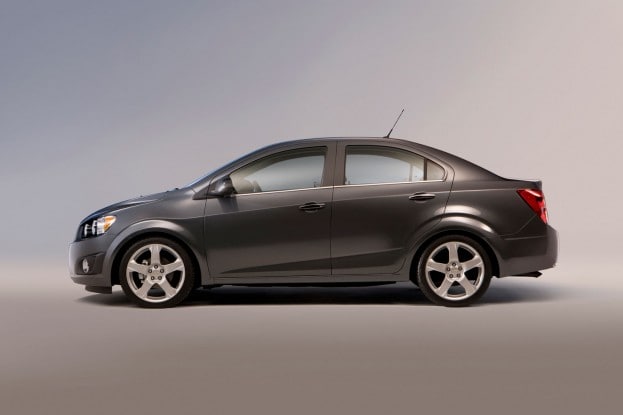 Midway Chevrolet presents the 2012 Chevrolet Sonic Compact Sedan
Buyers find that when they compare the 2012 Chevrolet Sonic to other makes like the Ford Fiesta, Honda Fit and Mazda 2, the Chevrolet Sonic distinguishes itself as the most fun to drive. Check out our Quick List table below to see why!
The 2012 Chevrolet Sonic has an starting MSRP of $13,735
The 2012 Chevrolet Sonic gets 26 city / 35 highway MPG
The 2012 Chevrolet Sonic goes from 0-60 MPH in 8.1 seconds
The 2012 Chevrolet Sonic features 41.8 inches of legroom up front and 34.6 inches in back
The 2012 Chevrolet Sonic features 38.7 inches of headroom in front and 37.8 inches in back
The 2012 Chevrolet Sonic is 173.1 inches long, 68.3 inches wide and is 59.7 inches tall
The 2012 Chevrolet Sonic weighs 2650 pounds and has a turning radius of 17.3 feet
We know you'll fall head over heels for the Chevrolet Sonic - visit Midway Chevrolet in Peoria today!
Take a look at it from every angle - front, back, side and all areas in between. Then try to draw your eyes away, if you can. Stunning from all vantage points, the 2012 Chevrolet Sonic's sleek profile is giving new shape to the waning American small car market. It is now the only subcompact vehicle that is built in the United States, creating over 1,000 jobs at GM's Orion Assembly Center in the metropolitan Detroit area. In a market where small cars are becoming more and more desirable, General Motors has made a pivotal move to build a vehicle that will be stiff competition for subcompacts like the Ford Fiesta, Honda Fit and Mazda 2. The creators of the 2012 Chevy Sonic did not skimp on the swank, designing a terrific small car with class-leading spaciousness, sporty handling and loads of plush amenities. With an MSRP starting at just $13,735, the Sonic is an affordable car that offers the comfort of a larger sized vehicle. As your premier Peoria Chevrolet dealer, we are proud to offer you the new 2012 Sonic and invite you to come down and test drive it today!
Taking a visual tour of the new 2012 Chevy Sonic, Peoria car shoppers will be impressed with its progressive exterior design. A honeycomb grille, alloy wheels and raked lines give the Sonic a dynamic and assertive presence on the road. Spawned from the Aveo RS concept, the Sonic has experienced many changes over the years, including a recent nameplate change. The car was introduced to the public at the 2010 Paris Motor Show and is taking its spot on car lots for the first time this year. Going forward, the 2012 Chevrolet Sonic will replace the compact Chevrolet Aveo, offering an enhanced subcompact car with its own unique personality.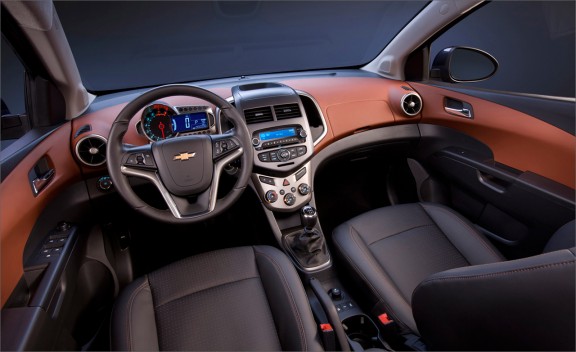 The GM Sonic was designed for a growing market of consumers who have grown tired of rising fuel prices and desire the economy of a small car. When it comes to cost cutting, subcompact cars are also an appealing option because of their economical pricing. Even at a low price, the Chevy Sonic comes with luxurious standard and available features like heated seats and mirrors, USB and Bluetooth functionality, SiriusXM Satellite radio, MyChevrolet Mobile Apps and more. It is available in two body styles, a five-door hatchback and a four-door sedan, offered in LS, LT and LTZ trims. Peoria Chevy shoppers can find the new 2012 Sonic at Midway Chevrolet in slick colors like Summit White, Victory Red and Silver Ice Metallic.
The Chevy Sonic is a small car, but it still competes against the big boys. Its developers put a lot of forethought into creating a vehicle that would offer big-car perks in a compact package. Peoria Chevrolet enthusiasts will enjoy the Sonic's library-quiet interior and smooth driving dynamics. Outside clatter and road noise are squashed by special liquid-applied sound-deadening materials and noise-absorbing acoustic baffles, while a sturdy frame composed of 60 percent steel improves stability. The Sonic also flaunts a spacious and comfortable cabin, as well as a plethora of safety features including 10 standard air bags, brake assist, electronic brake distribution and OnStar with Automatic Crash Response. In addition, the Sonic is distinguished by its power-dense under-the-hood setup. Peppy and efficient, the Ecotec 1.4L turbo and Ecotec 1.8L engine deliver great fuel economy without sacrificing performance. The 1.8L engine can be paired with a five-speed manual or six-speed automatic transmission and the 1.4L turbo is partnered with a six-speed manual transmission.
The 2012 Chevrolet Sonic from Midway Chevrolet brings spirit and agility to the subcompact segment. Specially tuned by Chevy Corvette engineers, the Sonic offers an athletic ride with sharp handling. All Chevy Sonic models are equipped with a stability enhancing MacPherson strut front suspension and an electronic power steering system that utilizes a wear compensator to significantly improve steering action. Beautiful to look at, fun to drive and well equipped, the GM Sonic is an all-around winner. Visit our Peoria Chevrolet dealership today to test drive the new 2012 Chevrolet Sonic!
Even though the Aveo name has been phased out, you can still find several high-quality, low-mileage 2010 and 2011 Chevrolet Aveo cars at Midway Chevrolet! Come in today to see the Chevy Aveo and the new 2012 Chevy Sonic!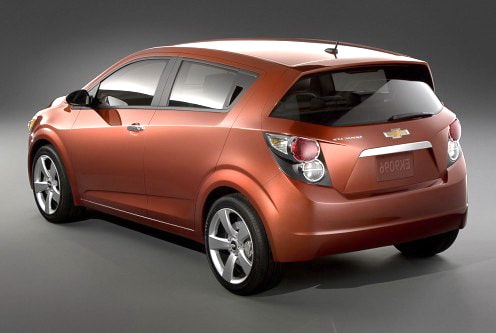 Owning a Chevrolet Sonic from Midway Chevrolet makes AZ driving commodious, safe and pleasurable - all at the same time! Here are the reasons why:
Midway Chevrolet has a large assortment of 2012 Chevrolet Sonic Compact Sedans with standard Chevrolet safety features like anti-lock brakes, traction control, driver airbags, passenger airbags, side airbags and more, making the 2012 Sonic an NHTSA and IIHS favorite. In addition to these safety features, the 2012 Chevrolet Sonic can adequately seat up to 5 passengers. Trunk space with Chevrolet is never a worry; the Sonic can hold up to 14 cubic feet of your equipment, ensuring that your next drive is hassle-free. To top it all off, the 2012 Chevrolet Sonic includes an impressive list of comfort and convenience features like powered windows, mirrors, doors and locks, climate control, AC and optional hands-free phone and navigation systems. Take a test drive at Midway Chevrolet today and experience the Chevrolet Sonic for yourself.
The Chevrolet manufacturer's warranty covers the Sonic for manufacturing defects and has a 36 months / 36,000 miles Chevrolet warranty. Chevrolet has worked for years to minimize its environmental impact; as a result, the Sonic's carbon footprint is minimal. Not surprisingly, with all of the Sonic's advantages, this remarkable Chevrolet Compact Sedan retains a high percentage of its value at 3 years and 36,000 miles, which makes the Chevrolet Sonic a great used buy! When seeking a safe, stylish and economical Compact Sedan, Phoenix Chevrolet aficionados should head to Midway Chevrolet, located at 2323 W. Bell Rd. in Phoenix, AZ
Chevrolet Sonic service information for Peoria
Chevrolet Sonic lessees and owners in Peoria have determined that Midway Chevrolet at 2323 W. Bell Rd. in Phoenix is the very best choice for Sonic warranty work, regular maintenance, inspections and mechanical repairs. At Midway Chevrolet, Certified Chevrolet Technicians trained in the very latest corrective and diagnostic techniques work for one thing - your approval. Whether it's time for your Chevrolet to have an oil change, air conditioning repair, or simply undergo Sonic Scheduled Maintenance, Midway Chevrolet is your first choice. Our Certified Chevrolet Mechanics also complete specialty jobs and repairs. Midway Chevrolet is the smartest choice in Peoria for swift, accommodating and professional Chevrolet Service of all kinds.
If you'd like to make an appointment to have your Sonic serviced, click the link or just give us a call. Stop by soon!