The 2012 Chevrolet Volt from Midway Chevrolet is the apotheosis of dedicated automotive craftsmanship built to fit the needs of AZ Chevrolet aficionados. Midway Chevrolet is delighted to present the 4-door 2012 Chevrolet Volt Compact Sedan. As your Peoria Chevrolet dealer, we hope you find our 2012 Chevrolet Volt reviews and research materials effective in finding the details, specifications and information you've been hunting for. View Midway Chevrolet's new lineup of 2012 Chevrolet Volt Compact Sedans.
Midway Chevrolet presents the 2012 Chevrolet Volt Compact Sedan
Consumers find that when they compare the 2012 Chevrolet Volt to other makes like the Toyota Prius, Nissan Leaf, Ford Focus and Mazda3, the Chevrolet Volt distinguishes itself as the most fun to drive. Take a look at our Quick List chart below to see why!
The 2012 Chevrolet Volt has an starting MSRP of $40,280
The 2012 Chevrolet Volt gets 24 city / 36 highway MPG
The 2012 Chevrolet Volt goes from 0-60 MPH in 8.53 seconds
The 2012 Chevrolet Volt features 42.1 inches of legroom up front and 33.9 inches in back
The 2012 Chevrolet Volt features 37.8 inches of headroom in front and 36 inches in back
The 2012 Chevrolet Volt is 177.1 inches long, 70.4 inches wide and is 56.6 inches tall
The 2012 Chevrolet Volt weighs 3790 pounds and has a turning radius of 18 feet
We know you'll have a great time in the Chevrolet Volt - visit Midway Chevrolet in Peoria today!
Midway Chevrolet has started taking orders on the 2012 Volt. This award-winning Chevy hybrid represents a radical evolution in the mobility industry. In the green car segment, "premium" references sustainability and economy. The 2012 and 2011 Chevy Volt offer environmentally conscious Peoria car shoppers a terrific fuel-saving, low-emissions vehicle with many of the same comforts as a traditional car. In a Chevrolet Volt review, Edmunds states that this "plug-in hybrid is arguably the most fuel-efficient car on the market." The highly sophisticated gas-electric car is proof of the diligent work that has taken place at Chevrolet. Other green cars like the Toyota Prius, Nissan Leaf, Ford Focus and Mazda3 have been kept on their toes since the Volt's arrival. To find the hybrid of your dreams, visit Midway Chevrolet and browse our wide selection of new and used Volts. You can find the new 2012 and 2011 Chevy Volt at our Peoria Chevrolet dealership for $40,280 - the base MSRP before a federal tax credit of up to $7,500. This year, the Volt's price has decreased, but you still get the same high-level fuel economy, performance and amenities as before!
Peoria Chevy drivers don't need to compromise on fuel economy. The electric range-extended, plug-in 2012 Chevrolet Volt from Midway Chevrolet gets excellent mpgs, even on battery power alone. Its high-tech storage battery is managed carefully, and when it needs to be re-charged, a range-extending gasoline engine is on board to generate electricity for the electric powertrain. The Volt's range is 340 miles with a full tank of fuel and fully charged battery. The Volt is equipped with a 149 hp electric motor that pumps out 273 pound-feet of torque. The motor is powered by a 16-kWh lithium-ion battery pack until it reaches a 70 percent depletion rate. At this point, a 1.4-liter four-cylinder internal combustion engine takes over. If you are cruising along at a high speed, the four-cylinder also kicks in to help directly power the wheels. Visit Midway Chevrolet to test drive the new 2012 Chevy Volt today and learn more about its advanced powertrain setup.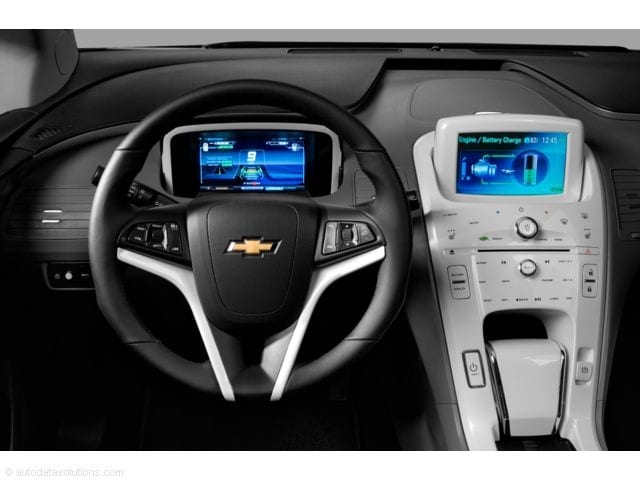 The 2012 Chevy Volt is available in one fully loaded trim. It comes in a unique hatchback sedan body style and seats up to four passengers. You can find the 2012 Volt at Midway Chevrolet in eye-catching colors like White Diamond Tricoat, Viridian Joule, Crystal Red Tintcoat and Blue Topaz Metallic. Passengers and drivers are presented with convenient hatchback access for belongings and an incredibly comfortable and spacious interior. A T-shaped chassis cleverly disguises the 2012 Chevrolet Volt's battery in a center tunnel under the rear seat. The center stack includes a seven-inch LCD screen and the instrument cluster doubles as a reconfigurable LCD display. Buttons for the audio system and ventilation are touch sensitive.
A hybrid car wouldn't be complete without high-tech interior amenities. The cutting-edge Chevy hybrid offers Peoria car shoppers features like Bluetooth, OnStar, remote ignition, an auto-dimming rearview mirror and automatic climate control. In addition, Peoria Chevrolet Volt owners will enjoy features such as an iPod/USB interface, a six-speaker sound system and Chevy's MyLink system with smartphone integration and voice-controlled phone and audio functions. An optional Premium Package and Rear Camera/Park Assist Package up the ante with features such as a rearview camera, front and rear parking sensors and heated front seats. For a complete list of standard and available features, please call or visit Midway Chevrolet.
If you want to decrease your monthly fuel cost, the 2012 Chevy Volt from Midway Chevrolet is an excellent vehicle option. With terrific crash test scores, a long range and a supremely comfortable interior, the Volt stands out from other vehicles in this competitive vehicle segment. Visit our Peoria Chevrolet dealership to see this extraordinary vehicle for yourself!
Cruising in a Chevrolet Volt from Midway Chevrolet makes AZ driving easy, safe and exciting - all at the same time! This is why:
Midway Chevrolet has a extensive collection of 2012 Chevrolet Volt Compact Sedans with standard Chevrolet safety features like anti-lock brakes, traction control, driver airbags, passenger airbags, side airbags and more, making the 2012 Volt an NHTSA and IIHS favorite. In addition to these safety features, the 2012 Chevrolet Volt can sufficiently seat up to 4 passengers. Trunk space with Chevrolet is never a worry; the Volt can hold up to 10.6 cubic feet of your personal belongings, ensuring that your next excursion is hassle-free. To top it all off, the 2012 Chevrolet Volt includes an astounding list of comfort and convenience highlights like powered windows, mirrors, doors and locks, climate control, AC and optional hands-free phone and navigation systems. Take a test drive at Midway Chevrolet today and experience the Chevrolet Volt for yourself.
The Chevrolet manufacturer's warranty covers the Volt for manufacturing defects and has a 3 Years / 36,000 Miles Chevrolet warranty. Chevrolet has worked for years to minimize its environmental impact; as a result, the Volt's carbon footprint is minimal. Not surprisingly, with all of the Volt's advantages, this remarkable Chevrolet Compact Sedan retains a high percentage of its value at 3 years and 36,000 miles, which makes the Chevrolet Volt a great used buy! When seeking a safe, stylish and economical Compact Sedan, Phoenix Chevrolet aficionados should head to Midway Chevrolet, located at 2323 W. Bell Rd. in Phoenix, AZ
Chevrolet Volt service information for Peoria
Chevrolet Volt lessees and owners in Peoria have determined that Midway Chevrolet at 2323 W. Bell Rd. in Phoenix is the very best choice for Volt warranty work, regular maintenance, inspections and mechanical repairs. At Midway Chevrolet, Certified Chevrolet Technicians trained in the very latest corrective and diagnostic techniques work for one thing - your approval. Whether it's time for your Chevrolet to have an oil change, serpentine belt replacement, or simply undergo Volt Scheduled Maintenance, Midway Chevrolet is your first choice. Our Certified Chevrolet Mechanics also complete specialty jobs and repairs. Midway Chevrolet is the smartest choice in Peoria for fast, respectable and professional Chevrolet Service of all kinds.
If you'd like to make an appointment to have your Volt serviced, click the link or just give us a call. We look forward to seeing you soon!